I'm Marcus McFly; a visitor around these parts.
I was literally just having this discussion with my homegirl the other night after a poetry slam. The argument was whether or not giving it up during the honeymoon phases of a relationship is a good or bad idea. By the end of the conversation, she agreed to disagree. I don't think we are friends anymore.
Her question was why she has the worst luck with dudes- after giving up the Foxy Brown. Silly question to have asked me, I never even knew shorty got down like that to begin with. The concept of her busting down was disgusting- but there's a bigger picture. All's the same I suppose no matter who we are; hell the principles even go both ways.
I didn't even know where to begin on shorty. It only started to make sense after she disclosed she was prematurely giving up the kitten after only knowing the dude(s) for a couple of days. I could've slapped the shit out of her; because, the principles have been the same since middle school.
Good guys never give it up, and good girls shouldn't give it up- on the first night.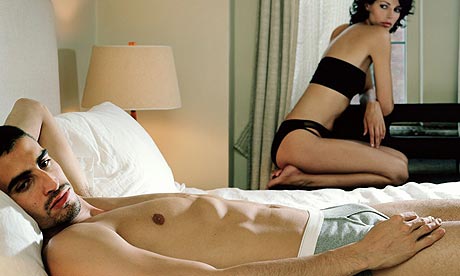 From the moment I first started busting down, I liked the excitement of a challenge. It's a primitive innate part of being a man. We decline having an affinity for games; when in reality we're genetically pre-disposed to being fans of it. Ok maybe not all men. But certainly is the case with me. If we are both fans of having one another in the picture for a while, let me put in the capital and work for the goods. Putting the pussy on a platter and leaving it at my doorstep is foolish.
I mean of course I'll take it. It's primal. If you're offering, I'm accepting. But you have a responsibility to yourself to know that giving too much too soon increases the chances that when you next reach out to me, I'm declining the calls. Hell half of the time when we do it, it's not even deliberate. We just generally lose interest in anything you have to say or offer.
I am a man. I engage in sport, challenge, hunt, fish, fight and pursue. If a bottle of moscato and BlackSummersNight gets the panties to fall, we lose the desire to continue pursuit- and there goes the guarantee of sustainability. We're out the door faster than we came. Came. Think about it, what would be the purpose of hunting for food if it was surrendering itself on your dining room table? Shits pointless.
That's not to say we want a chick who is toying with the pussy either. If I'm 3 dates in and spreading my rent thin so I can impress your ass, you better be preparing yourself to knock it down- or be stuck asking why you [still] can't keep a man.
It's all cyclical I suppose, and on a one-to-one basis. But in regard to the bulk of we 'regular motherfuckers', giving it up too soon leaves you alone too soon- but waiting too long and that shit will spoil. And no man likes having to wait a year and a day for the kitten, and finally catching it only to discover it smells like the inside of Pacquiao's gloves after a boxing exhibition.
*Kanye Shrug*
PS - I do other shit here.